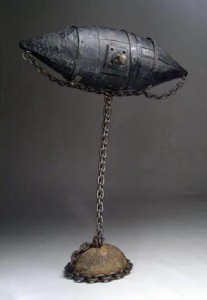 A group will erect a plaque marking the use of torpedoes during the Civil War.
ANNE MARIE APOLLO:
It took little more than a dark spring night in 1864, a band of determined men and gunpowder to turn the placid St. Johns River into a war zone. That April, one of about a dozen improvised torpedoes seeding the water exploded, sinking the Union Army steamer Maple Leaf. Exploding devices such as naval mines were called torpedoes at that time.
The confrontation sparked a summer of detonations that, while not changing the course of the Civil War, struck a death knell for soldiers and ships. It's the kind of local history some believe shouldn't be forgotten.
"People coming here, people moving down here don't really know how involved Jacksonville was in the Civil War," said Calvin Hart, adjutant of the Sons of Confederate Veterans Kirby-Smith Camp 1209.
The group and Orange Park officials will erect a plaque Saturday to the history of torpedo warfare on the St. Johns River. A 10 a.m. dedication at the east end of Kingsley Avenue will feature historic re-enactments and artillery demonstrations.
Composed of men whose ancestors were Confederate veterans, Confederate Veterans tries to pick significant and interesting places to highlight.
For the Kirby-Smith Camp, that has twice meant the wreckage of the Maple Leaf. The group previously rescued from storage a National Historic Landmark plaque for the wreckage that went unplaced for more than a decade, drawing renewed attention to the Maple Leaf. Artifacts from a six-year dive project focused on the Maple Leaf, portions of which are still submerged in the St. Johns River, sit at the Mandarin Historical Museum near a replica of the torpedo that sank it.
Many reflect the daily habits of the time, said museum Executive Director Andrew Morrow. Among the finds were a pencil and pen set, medicine and a lice comb. The technology that sank the ship was no less pedestrian – a barrel and about 70 pounds of gunpowder. The result was essentially an underwater mine, said Kirby-Smith Camp historian Larry Skinner, who gathered information from letters and recollections of the war to place on the marker. The wooden kegs were anchored by ropes and chains and sat 3 to 4 feet below the surface, designed to blow when a ship's hull hit them.
Together they sank not only the Maple Leaf, taking four lives, but also the General Hunter, the H.A. Weed and the Alice Price, killing another five.
Morrow said the torpedo history is interesting from a military standpoint, but the camp history buffs suspect it will have general appeal as well. "Most people don't have a clue that sort of action took place here," Skinner said.
annemarie.apollo@jacksonville. com, (904) 359-4470